AI-enabled data analysis is changing chemical process optimization.
Learn how

with our

free

white paper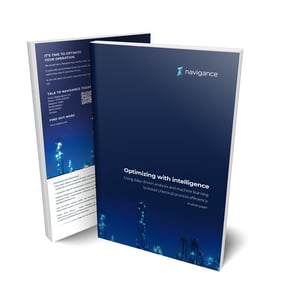 Discover how to:
Get more from your process data.

See how to use the latest technologies in new ways to enhance day-to-day production.

Optimize with intelligence.

Learn how AI-enabled hybrid models use your data to help you optimize chemical production.

Start now.

There's a good chance it's simpler than you think.
The optimization challenge
Most chemical producers would love to optimize their process further if only there was time.
Many have already made optimization attempts, usually focusing on adding to, replacing or redesigning the mechanical aspects of their operation. Such efforts – whether standalone or paired with traditional first principle modelling – can soon turn into fully-fledged projects.
Digitalization offers the scope to go even further with less effort, and to implement a new level of optimization in your day-to-day routines. In fact, all plants already gather data from their operations to one degree or another.
Are chemical plants using this data to its full potential? Is yours?
In operations day-to-day tasks already present various challenges that limit the use of data to looking at well-known metrics and trends. Anything more takes people, time and money that can be hard to find or justify.


Unlock the potential in your data.
You know you need to digitalize one day. But did you know you can achieve next-level optimization now, without tying up you or your team? Or that you've likely already got what it takes to get started?
Machine learning, a type of artificial intelligence, can analyze your process dataand suggest ways to maximize reliability, optimize efficiency and so profitability, while maintaining your process safety.
One producer used it to increase phenol production by over 5,500 tons a year – or USD 5.5 million in value*. What could these technologies do for you?
Make "one day" today.
Our free Navigance white paper shows how you can:
Realize the value of digitalization without using lots of in-house resource
Select the right approach to make better use of your data
Move from advanced analysis of your plant data to real-time recommendations you can act on fast to optimize with confidence
Achieve it all within weeks – then benefit from ongoing support
We hope you find it useful.